The kitchen island countertops serve as the most usable surface area and the base of any kitchen design. If you choose the wrong material for your countertop, you may end up with scratches, food stains, hot burns, and a blundered kitchen. I am here to help you avoid such a misstep by sharing some of the most suitable countertop materials for your kitchen.
The following article will help you if you plan to add a kitchen island to your old kitchen or buy a stylish new one. This will help you to decorate your newly designed house. All kitchen elements, including the kitchen island, should be considered while designing the space. The top is one of a kitchen island's most important design features.
There are several options available when it comes to picking the ideal material for a kitchen island top. Among the alternatives, consider granite, quartz, limestone, laminate, marble, and stainless steel. You can find more information about the pros and cons of these trending materials in the full article.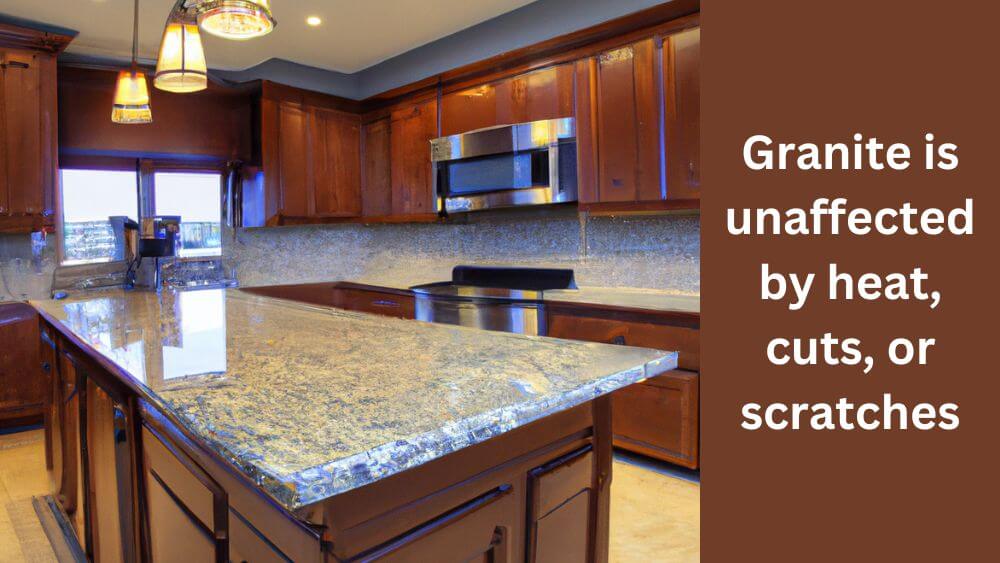 Granite Countertops
Granite is undoubtedly on your list for a kitchen countertop if trendy and contemporary kitchens are your ideal or if you're looking for the perfect surface for a steaming cup of tea. Granite is a long-lasting, easy-to-maintain stone that is available in a wide range of colors.
Your kitchen island will appear incredibly elegant and ageless with granite countertops. Neutral shades of granite, such as brown, white, or beige, are the most expensive. To save money, you can think about different color options.
Pros and cons of  Granite countertop
Though choosing granite is one of the best options for its aesthetic appeal, let's check some points before that.
Pros
Each slab's natural substance is distinct, and expensive colors and veining.

In our experiments, granite was unaffected by heat, cuts, or scratches.

Granite is generally resistant to food stains when adequately sealed.

Choose the finish you desire. Matte and polished surfaces both repelled most stains when properly sealed.
Cons
Granite is incredibly permeable despite having a sturdy veneer.

You need to reseal the surface to avoid long-lasting stains regularly.

 Corners and edges are prone to chipping and require skilled repair.

An expensive granite surface may be desired.
Marble Countertops
For kitchen islands, marble worktops are a traditional choice. It is a fantastic option for any kitchen because of its timeless beauty and toughness. You may personalize your kitchen island to match the current decor, thanks to the multitude of colors and patterns available in marble.
Marble comes in countless varieties depending on its origin, impurities, patterns, colors, and veining. The spectrum of colors includes white, black, pink, and green.
Because it is frequently the least expensive alternative, Carrara marble is the most preferred choice; nevertheless, kitchens can also use Statuary, Calacatta, and Crema Marfil.
Pros and cons of  Marble countertops
While expensive, marble has an unmatched beauty for countertops. Let's look at its few points for choosing and also some cons.
Pros
The aesthetic appeal of marble kitchen countertops is unmatched. Others can't compare to the richness or the character of the stone. Typically, people are drawn to marble countertops because of their veining.

Marble is a fantastic baking surface since it naturally keeps cool. Place hot pots and pans away from marble countertops because it isn't entirely heat resistant.

The presence of marble countertops can give the impression that the property is worth more than it is, but this is debatable.

Marble countertops in your home will last a long time with routine cleaning, maintenance, and sealing.
Cons
Acidic liquids and marble both permanently discolor. You can protect marble countertops against significant stains by sealing them at least once a year. It would be best if you ideally sealed the marble after installation.

Where the polish or sealant fades, marble will scratch or, if exposed to acid for an extended period, it will etch. You can polish marble to help conceal etching.

Not everyone can afford marble countertops since they are more expensive than other countertop options. Even though some types of marble can be cheaper, they are still more expensive.
Laminate Countertops
Laminate countertops are a fantastic choice for those searching for a sturdy countertop material with several fashionable design options. Finding the ideal countertop for any kitchen is simple, thanks to laminate, a synthetic material that comes in a wide range of hues and designs. Kitchens may have a distinctive design with laminate countertops without breaking the budget.
However, recent developments in laminate have altered this material's business environment. Laminate is essentially layers of plastic frequently attached to particleboard or another supporting surface; as a result, it is less expensive and arguably less opulent.
Pros and cons of Laminate countertops
Laminate is made of plastic, so you can easily replicate granite or stainless steel countertops. So, let's check in some of its points too.
Pros 
Laminate is a great option for busy households because it is simple to maintain.

It is inexpensive and simple to install.

Laminate countertops are a fantastic choice for individuals wishing to install a kitchen island because they are also heat resistant.

A laminate surface is ideal for a growing family with limited time for kitchen chores because it is inexpensive and simple to install.

Laminate countertops are available in new colors, patterns, and stone-like surfaces through modern printing technology and decorative edges.
Cons
Use a cutting board instead of cutting straight on laminate, as doing so can permanently harm it.
Wood Countertops
Straight woodcuts are bonded together to form butcher block surfaces. Your kitchen island can look traditional and natural with wood counters. Wood countertops are not only aesthetically beautiful and distinctive but also quite firm and can last for years. Any home will feel cozier and more natural thanks to the texture and warm colors.
The different varieties of wood are maple, cherry, oak, birch, and teak. Despite being grass, bamboo looks like wood. Each has a unique appearance thanks to stains and finishes, which complete the design.
Pros and Cons of wooden countertops
Although woodblock countertops are often seen in commercial kitchens, meat processing facilities, and butcher shops, many people are adopting them into their homes. If you want the natural warmth of wood in your kitchen, come to check out its pros and cons with us here.
Pros
The attractiveness of wood countertops is the main factor in people's decisions. They add a warmth to any kitchen that no other countertop material can.

All design types work nicely with wood countertops, including classic, country, French country, Mediterranean, Old World, modern, contemporary, transitional, and eclectic.

Wood countertops are generally recyclable.

It is offered at a variety of price points.

It has built-in antibacterial qualities.

Varnish improved stain resistance.

Wood may be finished and sanded to maintain its aesthetic appeal over time. It is also quite simple to clean.
Cons
Using a sealant on your wood countertops is important to protect them from heat and water damage, as they are susceptible to both. 

Compared to tile, stone, and metal, wood is softer and more prone to damage.

Must still use a cutting board to protect the surface.
Stainless Steel Countertops
Any kitchen island with stainless steel worktops will look sleek and contemporary. They are typically made of a single stainless steel piece and sealed to avoid stains. Make your kitchen island unique to your tastes by selecting from various colors and finishes. A stainless steel countertop is a fantastic option for anyone seeking a modern appearance.
Pros and Cons of Stainless steel countertops
A sturdy, stain-resistant, heat-tolerant worktop with a modern flair was once largely seen in restaurants and commercial kitchens. Still, it has recently grown in popularity among homeowners with comparable needs. If you want to consider this material, please check its pros and cons below.
Pros
Food-grade stainless steel, in contrast to other countertop materials like wood and stone, is heat and rust-resistant.

They are very durable.

It is very easy to clean. 

The surface is also non-porous, so food particles and liquids won't seep into

the material.

These countertops are Nearly maintenance-free and unbreakable.

Because stainless steel doesn't stain, it's ideal for households with children.
Cons
Contact with your metal utensils and cookware can be dangerous.

Sharp things can damage the steel.

Heavy things have the potential to dent stainless steel. It's normal to get some minor dents and dings over time.
Quartz Countertops
Quartz is a composite material comprised of minerals, pigment, and resin. For a kitchen countertop surface, quartz countertops are a fantastic option. Quartz countertops come in various hues and patterns, giving homeowners the option to personalize the appearance of their kitchen. Quartz is a great option for individuals on a tight budget because it is fairly inexpensive. Consider quartz countertops if you're looking for a fashionable and practical kitchen countertop that won't break the bank. Alongside its modern counterpart, granite, quartz is currently the "toast of the town" in many kitchens.
Pros and Cons of Quartz countertops
Unlike its modern competitor, granite is not porous. As a result, it is more hygienic and requires less maintenance. So you can choose quartz countertops for your kitchen too. But before that, why not check some more pros and cons of quartz countertops? 
Pros
They are tough, non-porous, and simple to keep up with.

Quartz is a fantastic material for kitchen countertops since it is extremely scratch and heat-resistant.

Quartz is not porous, like other hard surface countertop materials. Therefore it is far more stain-resistant than granite, marble, and concrete. It resists stains from juice, oil, wine, tomato, coffee, and other kitchen-related substances.
Cons
The luxury of having quartz countertops comes at a hefty cost, with one of the highest price tags of any countertop option.

Installing things yourself is not advised. For maximum outcomes, specialized equipment and training are required.

Quartz is less heat-resistant than granite, broken glass, or concrete. Thus care must be taken while using hot pots and pans in the kitchen or hot hair tools in the bathroom.
Limestone Countertops
Modern kitchens are increasingly choosing limestone countertops as their countertop material. They add a distinct texture and color to every environment and are lovely and timeless. Since limestone is a natural stone, there are many different delicate tones from which to choose, providing a great deal of personalization in the overall appearance of a kitchen. 
Limestone is also highly resilient and requires little upkeep, making it a great option for busy households. Limestone countertops are certain to add a sophisticated touch to any kitchen because of their natural beauty and toughness.
Pros and cons of Limestone countertops
Because of its white beauty, it is more popular in American and European kitchens, and if you want to give your kitchen the elegance of white limestone and any other color, you should check the pros and cons here first.
Pros
Natural limestone, one of the most common materials for kitchen islands, has an exquisite appearance but lacks the veining of granite or marble.

It is also resistant to heat and water, which makes it a great choice for any kitchen space. 

Some individuals favor this kind of style due to its particular texture brought on by its porous nature.
Cons
Need to handle with care to retain its beauty.

It gets scratched more easily than granite or quartz, so you must be careful with sharp tools.
Frequently asked questions
Before concluding, here are some of your most asked questions and answers regarding the varieties of countertops and their trending materials.
What is an island countertop?
A kitchen island is a free-standing piece designed to improve the usability and appeal of your home's kitchen. The conventional unit is rectangular, with a breakfast counter frequently utilized in one section.
A kitchen island countertop is a great addition to any kitchen. It provides extra counter space and can add additional storage in the form of shelves and cabinets underneath. You can also use it to separate the kitchen from other living spaces in the home, creating a more open feel. Kitchen island countertops come in various materials, including granite, marble, quartz, and wood. 
Each material offers its unique benefits and drawbacks, so it is important to understand the pros and cons of each before making a decision. You can customize the island with various features, such as sinks, cooktops, or even seating for extra dining space. Kitchen island countertops can be a great way to add functional style to any kitchen.
Is a kitchen island with a cutting board a good option?
Kitchen islands with a built-in cutting board are an excellent option for any modern kitchen. They provide an extra workspace that you can easily move around the kitchen, and they also come with a built-in cutting board to make meal preparation easier and safer.
With various styles and materials available, it's easy to find a kitchen island with a cutting board to fit your kitchen's unique style and layout. Additionally, kitchen islands with cutting boards offer a convenient way to store knives, utensils, and other kitchen tools while saving valuable counter space. All in all, a kitchen island with a cutting board is a great addition to any kitchen.
What is the most popular top for a kitchen island? 
Marble countertops have been popular in kitchens for decades. It adds a sophisticated touch to any kitchen design style and is trendy and timeless. In the current kitchen design era, marble countertops are very popular.
What is the cheapest top for a kitchen island? 
The laminate material, often the most affordable countertop material on the market, is created by bonding layers of plastic to particleboard. Add-ons such as end caps, mitered corners, and bullnose edges can spruce up this product. Using cutting-edge printing technology, custom laminates mimic the appearance of granite, marble, butcher block, or other pricey surfaces.
What is the most durable type of countertop?
The most durable type of countertop is generally considered to be quartz. Quartz is a hard, non-porous material that is highly scratch and heat-resistant, making it an excellent choice for countertops that will endure a lot of use. Quartz is an excellent choice for those looking for a countertop with long-term durability.
What is the most stain-resistant countertop? 
The answer is Quartz. The fact that Quartz is made of ground-up real stone and resin makes it the most stain-resistant material. As a result, a non-porous, extremely stain-resistant material is produced. The lack of a sealer makes Quartz also simple to maintain.
Should countertops be lighter or darker than cabinets?
The kitchen will appear smaller if the cupboards are dark, which may make it more difficult to see what is on the counters. If the cabinets in your kitchen are a dark hue, think about lighter counters. Darker kitchen hues will appear fantastic in contrast to light cabinets or stand-out furniture.
What countertop is scratch-proof?
Quartz countertops are one of the most scratch-resistant materials on the market. Quartz is a natural stone composed of quartz crystals and is one of the hardest minerals available. Quartz is non-porous, which means it is stain-resistant and easy to clean. Additionally, quartz countertops are available in various colors and patterns, making it easy to find a look that perfectly fits any home. For those looking for a truly scratch-proof countertop, quartz is the ideal choice.
Conclusion
Kitchen island tops are available in various designs and substances to complement any house. There is a kitchen island top to suit your style and demands, whether you choose a natural stone or quartz countertop, a reclaimed wood top, a stainless steel top, or even a butcher block top. Given the variety of alternatives, it's crucial to give each kitchen island top ample thought before choosing one.
As the chief content writer, Hassan Al Sarker works as a professional kitchen-based content creator at Kitchen Liker.
In addition to reviewing the content published on Kitchen Liker, he ensures that it is accurate, relevant, and helpful. As a result, all the reviews and information published at Kitchen Liker are neutral and userfriendly.
Hassan Al Sarker has a bachelor's degree in Hotel and Tourism Management From the Newyork University. Before joining Kitchen Liker, he was a contributor at Kitchen Club, United States.