Arctic stainless steel and brushed nickel are two of the most popular finishes for kitchen and bathroom fixtures. They both have a sleek, contemporary look that can complement any style. But while they may seem similar, there are actually some key differences between these two finishes.
What Is Arctic Stainless Steel?
Arctic stainless steel is stainless steel treated with an extra-cold process. This gives it a unique frosted appearance that is different from traditional stainless steel.
Compared to traditional stainless steel, Arctic Stainless has a more matte appearance. In contrast to the standard Stainless Steel's warmer color palette, this is a cool gray with blue undertones. Matte finishes are less shiny than other stainless steel finishes. Arctic Stainless fixtures feel very modern due to their matte blue-gray hue. Arctic stainless steel is also more resistant to fingerprints and smudges, making it an excellent option for busy kitchens.
Characteristics of Arctic Stainless Steel 
Arctic stainless steel has a gorgeous look

A faintly blue tone with a shiny surface

Almost any modern appliance can be paired seamlessly with it

Rust- and corrosion-resistant

Low-maintenance (durable)

Eco-friendly (recyclable)

The best choice for rooms with sleek lines, kitchen faucets, homeowners, and remodels with a high-end budget.
Brushed nickel, on the other hand, is a type of metal that has been treated with a brushed finish. This gives it a slightly textured look that can add depth and interest to any space. Brushed nickel is also less likely to show fingerprints and smudges, making it a good choice for high-traffic areas.
When it comes to choosing between arctic stainless steel and brushed nickel, it really comes down to personal preference. If you like the look of traditional stainless steel but want something a little different, Arctic stainless steel is a great option. If you prefer a finish with more texture and interest, brushed nickel may be the better choice. Whichever finish you choose, you can be sure that your kitchen or bathroom will have a modern, sleek look. 
What Is Brushed Nickel?
Brushed Nickel is Nickel that has been etched with a wire brush or similar tool to give it a textured appearance. As a result of this texture, brushed Nickel has a warm tone and creates an interesting interaction of light and shadow on its surface. As a result, this type of metal finish is very popular. 
Characteristics of Brushed Nickel
There is a matte, dull shine to brushed Nickel

Nickel brushed fixtures can easily hide dirt

A traditional bathroom or kitchen would benefit from brushed nickel faucets

The price is slightly higher

Over time, it tends to tarnish

It is very long-lasting to use brushed Nickel 

Brushed Nickel is ideal for doorknobs, faucets, bathroom fittings, cabinet hardware, and lighting fixtures.  
How is Brushed Nickel Made?
Wire brushes are used to give brushed nickel a textured finish (as opposed to a smooth finish) during fabrication. 
As the material is finished, you can see brush marks that provide a warm tone that offers subtle yet more dynamic light and shadow effects. 
It is more difficult to maintain the small ridges. Nevertheless, it's completely manageable. When the finish is tarnished, vinegar and baking soda can be used to remove it. 
What Is Chrome? 
Traditionally used for car parts and other industrial purposes, Chrome has become increasingly popular for fixtures and hardware. Chrome is relatively cheap due to its resistance to rust and corrosion. However, the shiny surface makes water spots and fingerprints stand out, so you should clean it regularly. Nevertheless, if you're remodeling a kitchen on a budget or building a modern or industrial house, Chrome is a great choice.  
Characteristics of Chrome
Chrome plating has a shiny finish

Modern & lucrative 

Models of all shapes and sizes are available

There are water spots and fingerprints on it

Chrome is the cheapest material for hardware

It is possible for the metal to rust

More frequent cleaning and maintenance are required

The best places to use Chrome are rooms with a cool color scheme, modern, industrial or farmhouse-style homes, all-white bathrooms or kitchens, and renovations on a tight budget 
How is Chrome Made? 
Chrome fittings are made differently from brushed nickel fittings. This is because an electrolysis bond first bonds chrome and brass. Therefore, Chrome will not be affected by water or heat and will remain permanently attached to the fixture.
Chrome and nickel are mixed to keep the fixture bonded to brass fittings. As a result, the fittings will have a bright and decorative finish. As a result, the fittings will have a bright and decorative finish.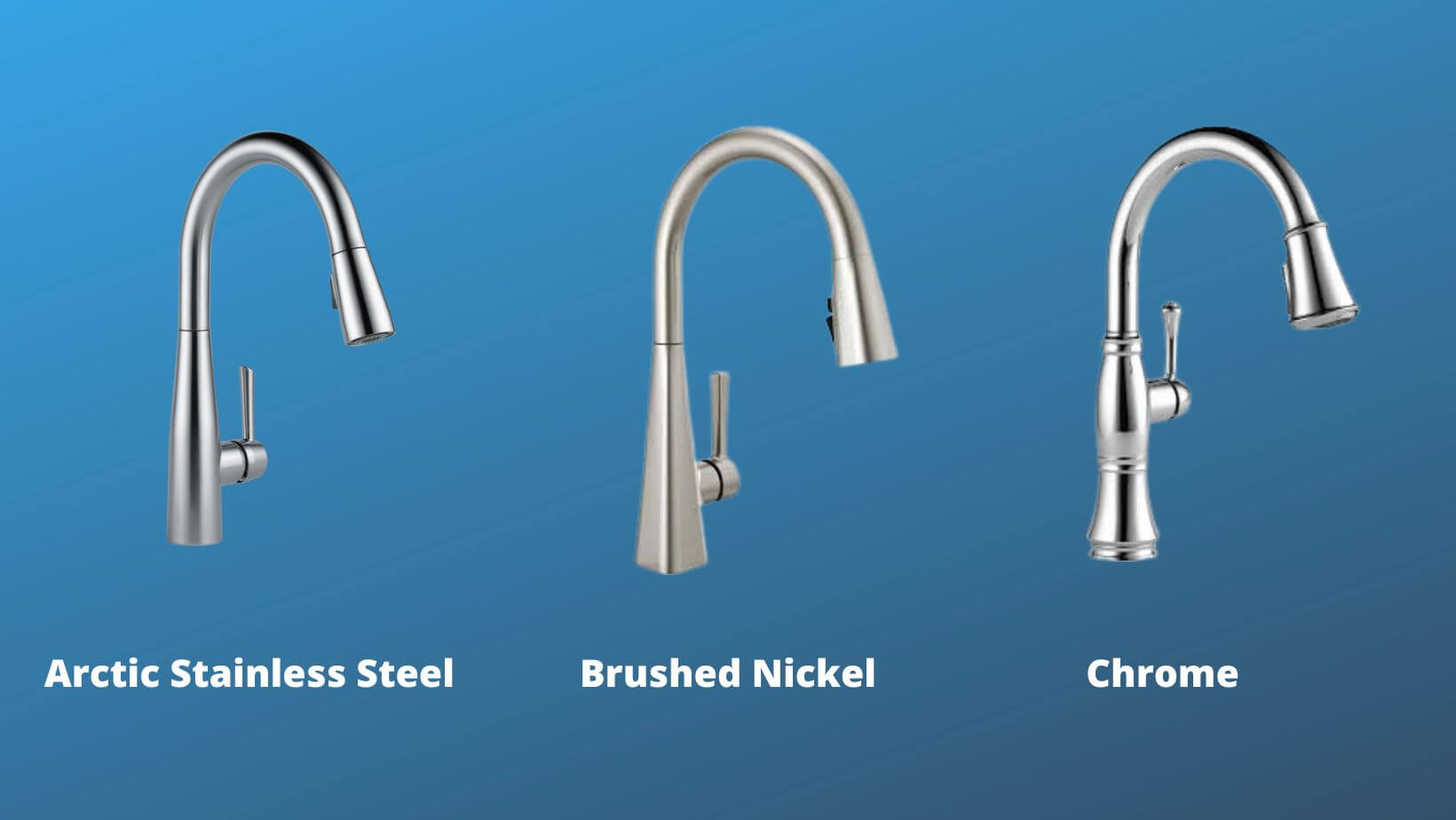 What are the advantages of brushed nickel?
Chrome is inferior to brushed nickel in terms of quality and appearance. Additionally, it has a more natural appearance and is less expensive than polished nickel and stainless steel. In contrast, chrome or stainless steel provides more shine than brushed nickel (most homeowners prefer a muted tone). In addition, it will not show fingerprints like chrome or some steel.
How does brushed nickel compare to stainless steel?
A wide range of kitchen designs can be complemented by brushed nickel, but solid stainless steel is more durable. Additionally, brushed nickel will hide fingerprints a little bit better because of its color.
How is stainless steel different from brushed nickel and chrome?
The color of stainless steel is usually between nickel and chrome, but nickel can sometimes look brown.
Do brushed nickels outperform chrome?
In general, brushed nickel finishes mask fingerprints better than chrome finishes. Furthermore, brushed nickel hides scratches and dents better than chrome, which can be lacquered.
Does brushed nickel resist rust?
Although brushed nickel hardware resists rust, it is not 100% rustproof. Over time, the plating will wear off based on how often it is handled and cleaned. However, you don't need to worry. Even after years of use, the hardware can remain rust-free. 
What makes brushed nickel more expensive than chrome?
The manufacturing process for brushed nickel faucets and fittings is more complex than that for chrome. First, a metal brush is used to etch into the nickel finish, giving it its trademark matte shine and rough texture.
Is brushed nickel out of fashion?
There's no predicting that brushed nickel will go out of style soon. However, traditional and transitional-style homes can benefit from this popular material. As a result, nickel remains a popular choice of faucet finish because it matches many design styles and keeps your kitchen looking fresh and new with minimal effort.
Is it possible to mix brushed nickel and chrome?
In general, you cannot mix nickel and chrome finishes. As a result, their colors do not complement one another.
Compared to chrome, brushed nickel is dull and has a brownish yellowish tint, while chrome has a slight blue tint.
As a general rule, nickel finishes are suited to a warmer room, while chrome finishes are suited to a more relaxed one. Use both finishes in different rooms of your home if you wish.
Among chrome and brushed nickel finishes, which is the most durable?
Choosing durable and long-lasting hardware is essential when remodeling your home. Despite their higher price, nickel faucets tend to last longer than their chrome counterparts, making them a more cost-effective choice despite their longer lifespans.
With the same maintenance and care, chrome finishes can last many years, but nickel will always last longer.
Brushed Nickel vs. Chrome – Which Should You Buy?
The best hardware material for a remodel isn't always a simple choice – both materials have their benefits and drawbacks.
As a durable and easy-to-clean metal, brushed nickel is an excellent choice for your kitchen, primarily if you use it often. In addition, the chrome color, dazzling shine, and unmistakable aesthetic make it the right choice if you've got a modern kitchen and cleanliness is not a concern.
Final Words 
Let's move on to you! Look around your kitchen and bathroom to see your preferred styles and finishes. Would you like to evoke a particular mood? Are you seeking a showpiece that commands attention or a more traditional finish that blends into the background? Whatever finish you choose for your kitchen or bath, you're sure to find something you'll love.
As the chief content writer, Hassan Al Sarker works as a professional kitchen-based content creator at Kitchen Liker.
In addition to reviewing the content published on Kitchen Liker, he ensures that it is accurate, relevant, and helpful. As a result, all the reviews and information published at Kitchen Liker are neutral and userfriendly.
Hassan Al Sarker has a bachelor's degree in Hotel and Tourism Management From the Newyork University. Before joining Kitchen Liker, he was a contributor at Kitchen Club, United States.