American Standard Company is almost 150 years old and has been serving with the promise to improve the quality of life. So, if you are wondering about trying the kitchen Faucets from American Standard Company for your kitchen, then you can choose this company. They offer various styles and finishes to find the perfect look for your kitchen.
The company offers you a variety of high-quality products with both traditional and contemporary styles that fit your specific needs. The kitchen Faucets of American standard also come with a limited lifetime warranty which ensures the durability of your products for many years.
American Standard has always been committed to providing customers with innovative designs and superior craftsmanship. In addition, they continue to offer their customers the highest level of customer service and support.
A Quick Overview of American Standard Faucet
Topic 
American Standard Performance 

Origin 

Indianapolis, USA

Manufactured In

Primarily Mexico

Founder



Clarence Mott Woolley

Running CEO

Steven P. Delarge (CEO)

Rating 

4.6 out of 5 (Based on Amazon product review) 

Product Type

Bathroom, and Kitchen Products 

After Sales Service 

4.4 out of 5 (Based on customer experience) 

Price Range 

$120 – $1000 (Faucet)

ANSI/NSI Certification 

Yes

American Standard Faucet Finishes

Stainless Steel

Estate Bronze

Matte Black

Oil Rubbed Bronze

Polished Chrome

Brushed Nickel

Polished Nickel

White

Legacy Bronze

Establishment of the Company 

1875

Revenue of 2021

$2.7 Billion
Customer review about American Standard kitchen faucet
The customer review from Amazon about the American Standard kitchen faucet is positive since they love it. Below are some of the reviews: 
Anyone with grip problems or serious sink work should consider this faucet. The plastic is high quality and heavy – not that cheap chrome-plated plastic. You know it is a quality tool when you first take it out of the box. This faucet installs quickly and easily. It is sufficient for wrist blades to do some good and move smoothly.
I love the price. As promised, it arrived on time. It was easy to hook up, and my husband and kids assisted with the installation. Having to cook meals and clean messes is always a hassle, but this works great for me.
There are missing parts noted in the description of the product. Color-coded supplies were not available. I was placed on hold when I called the customer service number. There is no easy way to determine who is at fault: Amazon or American Standard.
Company Overview
The passion and expertise of American Standard for plumbing dates back to 1875 when the Standard Sanitary Manufacturing Company was founded. The company was behind some of the most innovative plumbing innovations of the time, including the introduction of built-in bathtubs, one-piece toilets, and faucets that dispensed hot and cold water. 
By 1929, the company had merged with the American Radiator Company, becoming the world's largest manufacturer of bathroom faucet fixtures. The corporation adopted the name 'American Standard' in 1967, and it is still known as such today.
American Standard's commitment to innovation is unwavering, and the company is widely regarded as the market leader in the North American kitchen and bathroom product market. Their products are distributed nationwide through wholesalers, retailers, and online to residential and commercial customers. In addition, American Standard faucets are known for their quality craftsmanship and innovative designs.
In 2012 LIXIL owned the leading faucet brand, American Standard. LIXIL is also the owner of the Grohe brand.
Does American Standard Make a Good Faucet?
American Standard has been around for hundreds of years, and its products are well-known for their quality and durability. The American Standard faucet is no exception; it is a dependable product that will last many years. However, when choosing an American Standard faucet, there are a few things to consider.
American Standard is a leading manufacturer of premium-quality kitchen and bath faucets. Their products include sink faucets, shower heads, tub spouts, and accessories. All of these products are designed to provide exceptional performance and durability. 
First, you must choose your preferred finish. The finishes available from American Standard include chrome, brushed nickel, and oil-rubbed bronze. Second, you must decide on the type of faucet you want.
There are several styles to choose from, including traditional, contemporary, and transitional. After you've decided on the finish and style of your new American Standard faucet, it's time to put it in place. Installation is simple; follow the instructions.
Keep in mind that American Standard faucets are on the more expensive side. However, given the high quality of their products, we believe the investment is well worth it. 
Once installed, enjoy your new American Standard faucet's quality craftsmanship and reliable performance!
What is the Most Reliable Brand of Faucet?
There are many factors to consider when choosing a faucet brand. Some people prefer brands that have been around for a long time and have a reputation for quality, while others prefer newer brands that offer innovative designs and features. Some less well-known brands offer good quality at a lower price point.
Some of the most reputable brands in the faucet industry include Kohler, Moen, Delta, and American Standard. These brands have been around for decades and have earned a reputation for producing high-quality products. In addition, they offer a wide range of styles and finishes to choose from, so you can find one that fits your needs perfectly.
Some newer brands to consider if you're looking for something different. For example, Brizo and Grohe offer distinctive designs and features that set them apart from the competition. They may not be as well-known as some other brands on this list, but they are worth considering if you want to try something new with your next faucet purchase.
Types of American Standard Kitchen Faucets
You can select a faucet with smart features that will revolutionize your kitchen based on your needs and preferences. After all, the kitchen faucet is the most frequently used appliance in the home. The American Standard Company offers several faucet designs from which you can choose your own.
American Standard Pull-Out Faucet
These faucets are available in various styles depending on the arc height and sink size. You can easily find these faucets by pulling out the heads in different directions for better use.
American Standard Pull-Down Faucet 
AVERY, DELANCEY, and BEALE are some of the best pull-down faucets. These types of faucets help you to make your dishwashing easier. In addition, you can choose from different spray types and even hands-free technology within the pull-down faucets.
American Standard Single-Handle Faucet 
Customers who love simplicity can easily be in love with single-handled faucets. They are simple yet elegant, providing various spray styles, arc heights, and other technologies. Here you can control the water temperature with a single lever.
American Standard Two-Handle Faucet
These faucets are for better temperature precision as you can control the water flow with two handles. You also get these types with a similar huge range of variations in designs and technologies.
American Standard Touchless Kitchen Faucets
These are best when you want to keep your products clean and safe from dust or dirt.
American Standard MeasureFill Faucets
Technology and style are combined here in these faucets. These faucets allow you to deliver a precise set volume of water. For that, you will have just to turn the dial to your desired volume of water and then touch it to turn on the water flow.
American Standard Wall-Mount Faucets
A wall-mount faucet can spruce up the kitchen with its beautiful style and unique design. The following advantages make a wall-mount faucet an excellent addition to any home.
American Standard DeckMount Faucets
You can easily set these faucets by configuring them with the holes in your sink. The American Standard Company also comes with a variety of deck-mount faucet designs.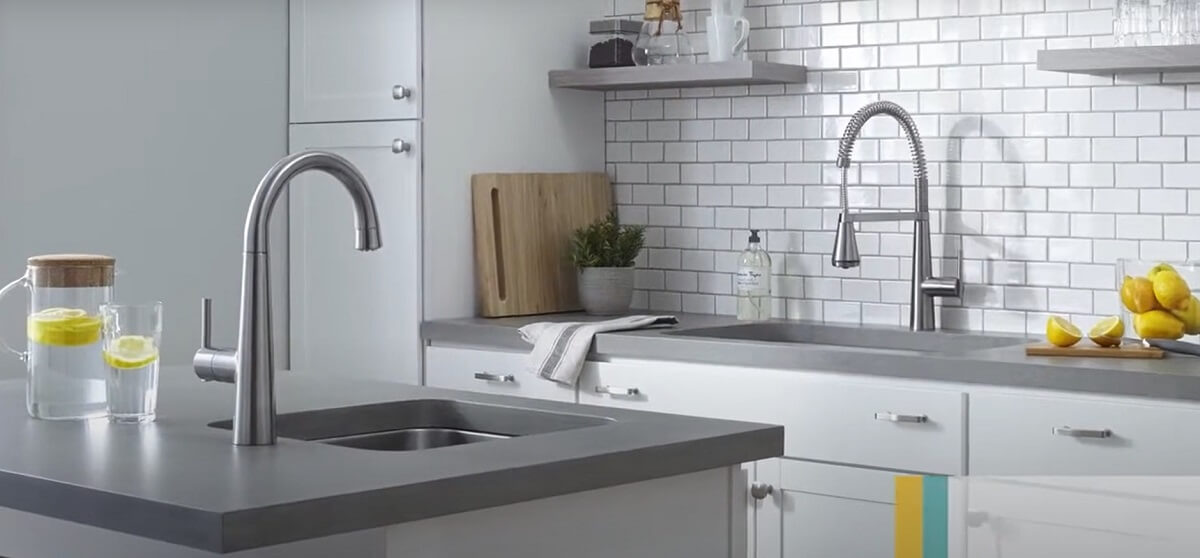 American Standard vs. Kohler Faucets
American Standard and Kohler are the most popular faucet brands on the market. However, both offer various styles and finishes, so deciding which is suitable for your home can be challenging. Here's a closer look at some of the key differences between these two brands:

American Standard faucets are typically more affordable than Kohler faucets. However, both brands offer a wide range of prices, so it's important to compare models within each brand to find the best deal. 

American Standard offers more faucets than Kohler, including more basic and budget-friendly options. Conversely, Kohler's lineup tends to be more high-end, with fewer choices for those on a tight budget.

Both American Standard and Kohler make high-quality products that are built to last. However, some reviewers say that Kohler's build quality is slightly better, although this may not be noticeable in everyday use.

Both brands offer easy-to-installation faucets that DIYers can do with no plumbing experience. However, American Standard includes an optional deck plate with its models (which must be purchased separately from Kohler), which makes installation even more accessible. 
What factors need to be considered when selecting a kitchen faucet brand? 
To select a specific brand, you need to consider the following factors:  
1) Design – How attractive does it look?
2) Quality – Is it made well?
3) Functionality – Does it work as expected?
4) Price – What's the price range?
5) Warranty – Will it last?
6) Customer Service – Can they help me when I need them?
7) Overall Rating – Are there other factors we didn't mention?
8) Pros & Cons – What are the pros and cons of each product?
9) Best Value – Which one do you think is worth buying? 
Are American Standard faucets Made in the USA?
Yes, all of the faucets offered by American Standard are manufactured in the United States. This means that you will be able to enjoy the benefits of American jobs and American manufacturing. You will also support American workers working hard to create new jobs and keep existing ones.
Are American Standard faucets Made in China? 
No, none of the faucets sold by American Standard are made in China.
How many different types of faucets are available from American Standard?
There are three main categories of faucets that American Standard offers. These are Single Handle Bathroom Faucets, Double Handle Bathroom Faucets, and Tub Spout Faucets. Each type comes in various sizes and finishes.
Is American Standard a luxury brand?
American Standard is not considered a luxury brand because it doesn't sell expensive products. However, they do offer high-end products at affordable prices.
Is American Standard and Grohe is same?
Yes! they have the same ownership from 2012. In 2012, LIXIL owned the leading faucet brand, American Standard. LIXIL is also the owner of the Grohe brand.
Can I get American Standard faucets online?
Yes, you can buy American Standard faucets directly from their website. There are two ways to purchase faucets from American Standard. First, you can use their website or call them now. Second, you can visit your local home improvement store and ask them to order the faucets.
Conclusion
The company has gained unparalleled expertise and reputation because of its years of experience. For example, American Standard faucets are labeled as water-efficient because their advanced technologies provide better performance and less waste. Their bathroom fixtures are also safe and straightforward for those with mobility problems.
American Standard is an excellent option if you're looking for a high-quality, dependable faucet. With a wide range of styles to choose from, there's sure to be a perfect fit for your kitchen or bathroom. Plus, American Standard faucets are backed by a lifetime warranty, so you can rest assured that your purchase will last.
As the chief content writer, Hassan Al Sarker works as a professional kitchen-based content creator at Kitchen Liker.
In addition to reviewing the content published on Kitchen Liker, he ensures that it is accurate, relevant, and helpful. As a result, all the reviews and information published at Kitchen Liker are neutral and userfriendly.
Hassan Al Sarker has a bachelor's degree in Hotel and Tourism Management From the Newyork University. Before joining Kitchen Liker, he was a contributor at Kitchen Club, United States.