To get rid of bacteria from your kitchen sink, you need to clean it regularly. The easiest way to do this is to use a sponge or a brush. There are several types of these tools, each with its benefits.
When it comes to sponges for house cleaning, there are so many to choose from that sometimes you may not even realize there is a better one. Nevertheless, the sponge is an incredibly useful cleaning tool, whether it's used for dishwashing, wiping down countertops, or removing pet hair from furniture.
The difficulty lies in understanding which sponge is best suited for which mess. There are many different sponge types, from metallic steel wool sponges to abrasive sponges, Dobies, and more. To help make your daily cleaning tasks easier, we highlight the best uses for various cleaning sponges. 
There are three main categories of dishwashing tools
1) Sponge
2) Brush
3) Spongelike tool
But in detail, there are many kinds of dishwashing tools available. Check out these different types of cleaning sponges and their uses:
Cellulose Sponge
A cellulose sponge is made from wood pulp, and the small holes help the sponge absorb liquid and hold it in place so it can be cleaned easily. Dishes, countertops, bathroom surfaces, and everyday spills are all well-suited to these sponges. It would be best if you did not use them to wipe up raw egg or meat juices, though, as they can be difficult to rinse out thoroughly. A disposable paper towel is better than a cellulose sponge in those situations.
Abrasive Scrubber 
Plastic abrasive sponges are used for cleaning grills, outdoor furniture, and cookware because they are made from abrasive materials. There are various levels of toughness, so read the packaging carefully to choose the right abrasive sponge for your surface area.
Cellulose & Abrasive Sponge
Popular and useful for general cleaning are sponges that combine cellulose and abrasion. The two-sided sponges will give you the benefits of both cellulose and abrasive sponges since they can be used on dishes, bathroom surfaces, countertops, and more. On the other hand, the abrasive side can come in different toughness levels; for everyday use, you want a non-scratch, low abrasive level.
Magic Eraser Sponge
Magic erasers have worked wonders for parents and kids alike. With the water-activated scrubber, you can start cleaning as soon as you wet it. Scuffs, crayon marks, and pencil marks on walls, countertops, and more can be removed with this product. Depending on your cleaning requirements, you can choose different versions, but you shouldn't use them on your skin or glossy surfaces. Instead, use Magic Eraser scrubbers for kitchen surfaces, which are great for removing built-up grease, baked-on stains, and tough grime.
Sea Sponges
Natural sponges are found on the ocean floor. Like 100% natural products, they are extremely eco-friendly and can be used for many purposes, including bathing, cosmetics, and cleaning. Among other things, you can use them for washing dishes, bathing, and exfoliating. Sea sponges come in many forms—some harder, some softer—so make sure you choose the one that is right for your cleaning needs!
Rubber Sponges
As you might expect based on the name, rubber sponges are made of rubber. On the other hand, it can be used to clean surfaces that don't need to be wet. Dry sponges are often used for this purpose. Before wiping down your surfaces, dampen the sponge and use liquid soap.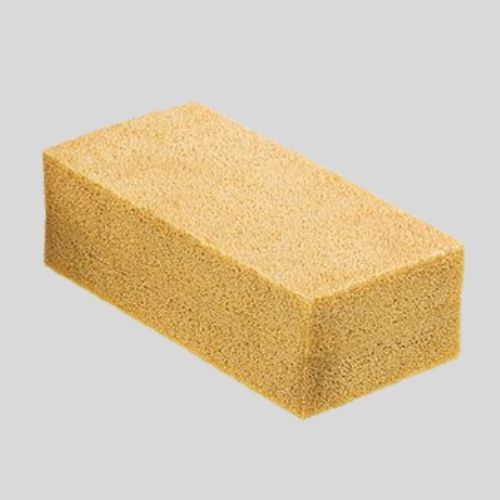 Microfiber Sponges
You can use microfiber sponges on any surface. They are ideal for all surfaces. Soft microfiber sponges remain soft over time. Although soft, it removes all food from your dishes, even stuck food. Also, it dries rapidly, which prevents bacteria from growing.
Dish Wand Sponge
The dish wand sponge is a combination product. It comes with a handle that holds dishwashing soap. Dishwashing soap no longer needs to be mixed with the handle when washing dishes. Keep your sink neat with this dish wand sponge.
Silicone Sponge
Since silicone sponges are not porous, they won't hold on to bacteria and odours. Consequently, they will not stink as much as cellulose sponges. If you have ever noticed a nasty smell from your sponge, you will not experience that anymore with this type of sponge. Because of their food-grade material, these silicone sponges will not stink.
Stainless Steel Sponge
A stainless steel sponge is perfect for removing food stuck to pots and pans with hard cores. However, getting the food off these dishes requires a lot of effort. The scrubbers are made from stainless steel 410. To create a sponge, stainless steel coils are woven tightly together.
Wire Scrubber
Wire sponges are made of fine, flexible metal or steel fibres with sharp edges and are also commonly known as steel wool. A metal sponge can be used to clean glass or porcelain since it is softer than those materials but still able to scrape off deposits without scratching them. Steel wool sponges also effectively clean metal pots, pans, and grills.
Dry Sponge
A dry sponge is a sponge made from a rubber mixture intended for dry use. These sponges are excellent for surfaces that cannot withstand moisture or water. For example, they can remove soot and pet hair from surfaces after fires, such as fireplace mantels, screens, bricks, curtains, and carpets. In addition to wallpaper and fabric window coverings, these sponges work well on wallpapered walls. If the surface of a dry sponge is completely covered with dirt, soot, or animal hair, cut it off, and you have a fresh surface to clean.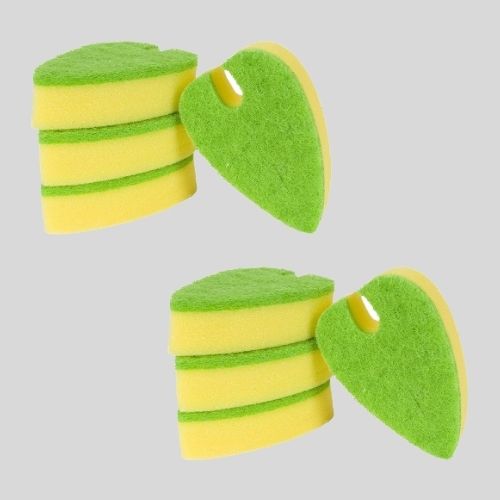 Dobie Scrubber
Cleaning up everyday messes with this classic sponge is still popular today. It can be used to clean copper, nonstick cookware, and china without scratching them.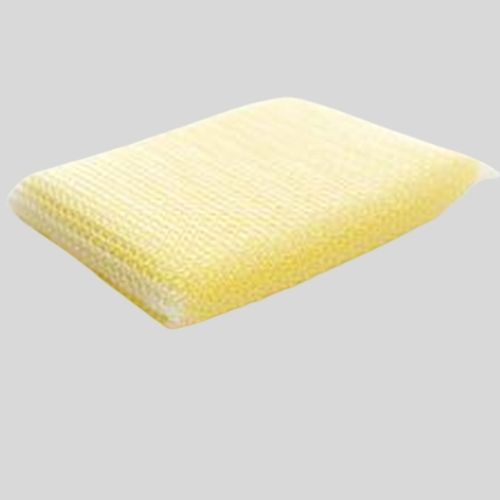 Microfiber Cleaning Cloths
Because microfiber cloths are made of synthetic materials, their fibres are much thinner than regular clothes. In addition to absorbing dirt and oil, they are soft enough to not scratch or damage surfaces in the home. Due to their non-shedding nature, glass and mirror can be easily cleaned with them. Microfiber cloths can also be used to clean stainless steel surfaces since they are electrostatic and, when used with the right cleaner, can be used to clean stainless steel surfaces.
Palm Brush
The palm brush is designed to fit in the palm of your hand. Its perfect shape fits in corners and makes cleaning a breeze. Among the palm brushes, there are two types, one that dispenses soap and one that does not. Regardless of which of the two kinds of palm dish brush you pick, they have some of the same features.
Non-Scratch Scrub Brushes
Combining scrubbers and sponges, Non-Scratch Scrub Brushes are a great alternative. The sponge portion usually consists of cellulose, while the scrubber portion consists of abrasives. Although tough enough to remove stuck-on food, they will not scratch your pots and pans. A delicate glass can be cleaned with a soft side.
Bottle Brush
Cleaning your bottles with a brush is an important part of kitchen equipment. This is true even if you use your bottles only for water. This is because your bottles can trap bacteria and allow them to grow. A bottle brush is the best way to clean your bottle thoroughly.
Frequently Asked Questions
How do you disinfect a kitchen sponge?
You can disinfect the sponge by placing it on the top rack and running the machine through the heat-dry cycle. It would help if you used the longest, hottest dishwasher cycle to kill germs on your sponge, but any heat-dry dishwasher cycle will do. Cleaning kitchen sponges once a week is essential for maintaining a healthy kitchen.
Is it better to use dish brushes or dish sponges? 
Regarding effective cleaning, dish brushes are just as effective as sponges. It is easy to clean dish brushes because they are durable and plastic-free. Most importantly, they are the most hygienic of the three. If you dislike germs, this is the perfect recommendation.
How often should I replace my dishwashing sponge?
It depends on how often you use them and how well they are cleaned. Generally speaking, replace dishwashing sponges every two weeks and replace brushes every month. It is important to rinse and squeeze out your sponges and brushes after each use. This will ensure they are as clean as possible and aren't harboring any bacteria or grime. When not in use, keep them in a dry place, such as a sink caddy.
How can I make sure my dishwashing sponge is bacteria-free?
To keep your dishwashing sponge bacteria-free, replace it often, preferably once every two weeks. Furthermore, you should sanitize it by microwaving it on high for 1 minute. You can also soak it in 1 cup of bleach and 1 gallon of water for 5 minutes. Additionally, you should rinse and wring out your sponge after every use to eliminate as much food debris and bacteria as possible.
Should I use a sponge or a brush for washing dishes?
The answer to this question depends on the type of dish you are washing. Generally, sponges are better for washing fragile dishes, such as wine glasses and other delicate items. Brushes, however, are better for scrubbing tough, baked-on food from pots and pans. For everyday dishwashing, a combination of a sponge and a brush is ideal for quickly and effectively cleaning dishes.
What is the proper way to store my dishwashing sponge?
To maintain a healthy kitchen environment, it is important to keep your dishwashing sponge clean and in good condition. Storing your dishwashing sponge in a dry, ventilated area away from direct sunlight is advisable. Some people also like to store their sponges in mesh bags or air-tight containers, which can help keep them clean and odor-free. Doing so will help your sponge last longer and prevent it from harboring bacteria. 
Final Words
Dishwashing sponges and brushes are essential for washing dishes and other items in the kitchen. To prevent bacteria and germs from building up, regularly clean and replace them. Additionally, it is important to choose the right type and size of brush or sponge for the job. With the right knowledge and tools, you can ensure your dishes are squeaky clean and free of germs.
As the chief content writer, Hassan Al Sarker works as a professional kitchen-based content creator at Kitchen Liker.
In addition to reviewing the content published on Kitchen Liker, he ensures that it is accurate, relevant, and helpful. As a result, all the reviews and information published at Kitchen Liker are neutral and userfriendly.
Hassan Al Sarker has a bachelor's degree in Hotel and Tourism Management From the Newyork University. Before joining Kitchen Liker, he was a contributor at Kitchen Club, United States.